List: 2017 Best Star Wars Toys for Christmas
The best Star Wars: The Last Jedi toys for Christmas 2017
It's like Christmas, but with Imperial Stormtroopers instead of reindeer
By Gary Marshall , Dan Grabham 16 days ago
There are stacks of new Star Wars toys around on the lead up to Christmas and Black Friday - mostly from the new film Star Wars: The Last Jedi, but with a few extras thrown in.
There's a brand new imperial spy droid announced by Sphero - R2-Q5. Yes, these are getting a little confusing. The new droid is on UK shelves exclusive to John Lewis.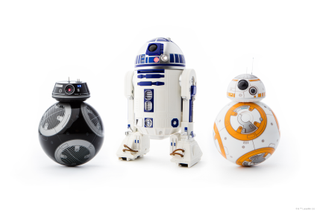 John Lewis and other retailers already have their own online Star Wars stores live!
John Lewis Oxford Street in London has plenty of Star Wars replicas to show off including the world famous Cantina where fans can enjoy a complimentary drink whilst purchasing new Star Wars products in store.
Don't forget to check out all the best toys and Lego sets as well.
LittleBits Star Wars Droid Inventor Kit - now with £20 off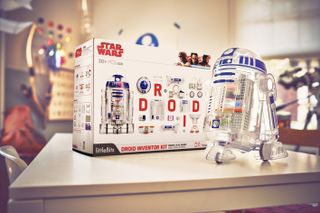 We've seen this in the 'flesh' and believe us, it's VERY COOL. For the first time ever kids will be able to create their own custom Droid and bring it to life.
Using littleBits electronic blocks technology and the free Droid Inventor app (it comes with six Bits, 20 Droid parts and three sticker sheets), children can teach their R2 Unite new tricks and take it on 16 missions across the Star Wars universe. It can even be given new skills.
Initial assembly is easy with step-by-step instructions to create the Droid and control it in Drive Mode, Self-Nav and Force Mode. For those who want more, the components can be used for the creation of any droid you can dream up.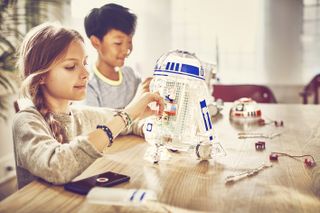 UBTECH's Star Wars First Order Stormtrooper Robot
Following hot on the heels of other Star Wars: The Last Jedi toys comes the First Order Stormtrooper Robot by UBTECH which has a companion app for iOS and Android. Features include:
First and Third Person AR (Augmented Reality) App Modes: Protect the First Order against the Resistance in your own room, issuing direct verbal orders, and launch attacks via the app interface in first and third person views.
Voice Commands: Speak directly to your Stormtrooper to interact in new ways.
Facial Recognition: Create a database of up to three faces. Note that the Stormtrooper Robot does not connect to the internet and stays within a closed network.
Sentry Patrolling: Order your Stormtrooper to patrol the designated area to detect and respond to intruders.
The Star Wars First Order Stormtrooper Robot by UBTECH is available for pre-order at starwars.ubtrobot.com, Amazon, Argos, Dixons, Very, Toys R Usand Menkind.
Sphero R2-Q5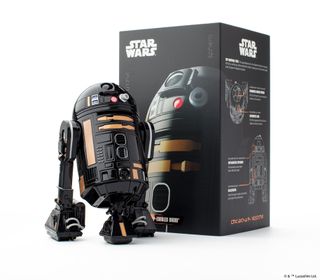 The new R2-Q5 App-Enabled Droid from Sphero is a "skilled starship mechanic and intimidating Imperial spy", with many features to interact with and explore - you can even watch R2-Q5 interact with the other App-enabled Droids which we've listed below.
Sphero BB-9E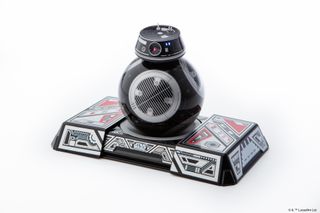 BB-9E is a menacing astromech droid of the First Order. Control it with your smart device and keep it rolling optimally with the augmented reality Droid Trainer. Watch BB-9E interact with other Star Wars App-enabled Droids by Sphero, and view films from the Star Wars saga with BB-9E by your side. This is NOT the droid you're looking for… it's the droid that's looking for you.
Sphero R2-D2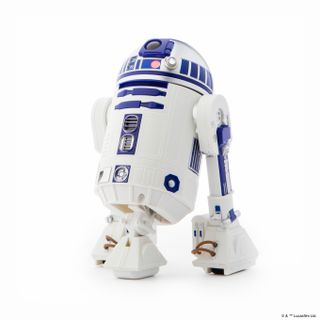 R2-D2 is an astromech droid from a galaxy far, far away.... Control your droid with your smart device or keep Artoo in top shape with augmented reality training. Artoo's signature front and rear LED lights are fully functional, and an integrated speaker means the beeps and boops come right from R2-D2 itself. Watch Artoo interact with other Star Wars App-enabled Droids by Sphero, and view films from the Star Wars saga with R2-D2 reacting by your side. This iconic droid has been brought to life like never before.
Sphero BB-8 with Trainer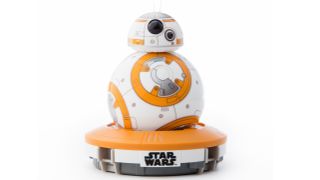 You've seen this one before, of course. Control the BB-8 App-Enabled Droid with any smart device and keep BB-8 sharp with the augmented reality Droid Trainer. Watch BB-8 interact with other Star Wars App-enabled Droids by Sphero. BB-8 is more than a Droid – it's a companion.
Jedi Training Remote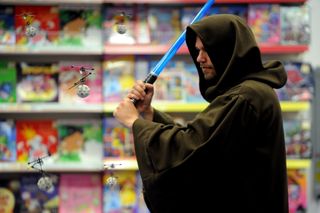 The Jedi Training Remote is a miniature droid, based on a Jedi training device. Based on the original device seen in Star Wars: A New Hope, Star Wars: Attack of the Clones and Star Wars: The Force Awakens, the Jedi Training Remote darts up and down while firing simulated 'sting beams' at its opponent, making it a great combat training aid. LED lights replicate the random firing sting beams and repulsors.
You can choose from two modes. The first involves using a remote control to set the height, speed and sting beam effects. The second mode, Force Control, uses sensor technology so the Jedi Training Remote can be controlled with movement of the hands, feet or any solid object waved below.
Star Wars Battle Drones by Propel - £199 each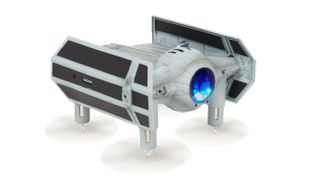 The T-65 X-wing Starfighter, Darth Vader's TIE Advanced x1 and a 74-Z speeder bike are the first editions in a series of high-performance battle drones. All three quadrocopters boast flying speeds of more than 50 km/h and a whole raft of technical innovations.
Propel will also be launching the first in a series of companion apps on 1 September. The initial release will be a flight simulator with 34 training modes, to train you from cadet to admiral status.
We went to see the Propel drones in action and you can read all about what we thought of them.
The limited edition Laser Battle drones are available exclusively from John Lewis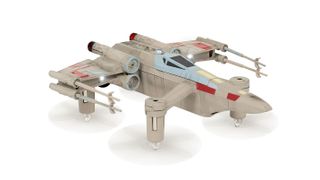 New Lego Star Wars: The Last Jedi sets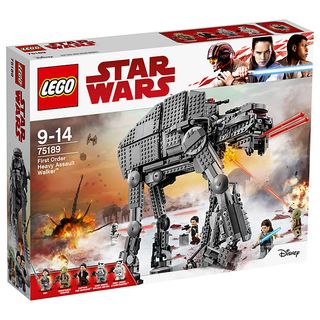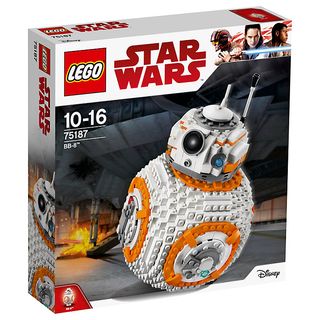 Buy all the Lego Star Wars sets from John Lewis - don't forget your Lego Star Wars Advent Calendar - £25
Plus, there's a new version of the Millennium Falcon costing an eye-watering £649/$799 USD. It's the biggest Lego set ever and, well, just look at it.
It's available on 1 October and features loads of stuff. Check out the new Lego Millennium Falcon.
Last Jedi Plush toys by Posh Paws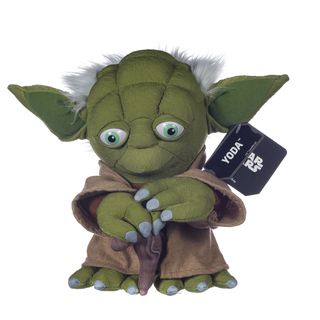 The range includes characters from both sides of the Force, such as Praetorian Guards, Stormtrooper Executioner, Porgs and BB-9E. Perfect for recreating scenes from the newest Star Wars movie, and for a late night cuddle as you drift off to a galaxy far, far away.
The XL plush toys will be priced at £29 each, or you can get a set of two medium characters at just £24.
The Posh Paws Star Wars toy range is priced between £5.99 and £34.99 and you can already buy some of them from QVC.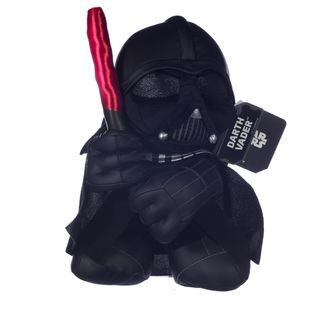 Lightsaber deals!
Choose Your Destiny Lightsaber - £33 from Argos
Bladebuilders Path of the Force Lightsaber - £55 from Argos
Jakks figures - £19.99
These are 18-inches tall, featuring Kylo Ren, Praetorian Guard, Rey, Captain Phasma and the wonderfully-named First Order Executioner.
12-inch Kylo Ren - £12.99 from Argos
Star Wars Ep VIII The Last Jedi Elite Guard Action Figure
Force Link Starter Set + Figures, Vehicles & Playset
Hasbro's new Force Link tech combines wearable tech with the characters and vehicles from the Star Wars saga to deliver a play experience that brings Star Wars stories to life like never before. Force Link unlocks an extensive collection of sounds, phrases and lights with over 30 compatible figures, vehicles, and playsets at launch.
Force Link Starter Set - £27 from ArgosFeel the Force with the FORCE LINK STARTER SET that includes new FORCE LINK wearable technology, allowing fans to activate awesome features in more than 30 compatible STAR WARS toys! The FORCE LINK technology unlocks an extensive collection of sounds, phrases, and lights with compatible figures, accessories, vehicles, and playsets.
Star Wars Jedi Challenges
Jedi Challenges features a smartphone-powered Lenovo Mirage AR headset, Lightsaber Controller, and hours of Star Wars gameplay. With this product, players train to perfect their lightsaber skills by taking on some of the most menacing villains the dark side has to offer, command armies in combat missions to defeat the Empire, and outwit their opponents in Holochess, all in augmented reality. Jedi Challenges is compatible with both Android phones and iPhones, will be available this holiday season and is available for pre-order now.
And, er, what about a Star Wars TV?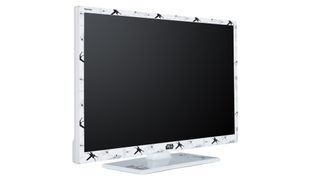 Toshiba announced at IFA 2017 that it's teamed up with Lucasfilm to create an exclusive Star Wars inspired TV. It's not that highly specified, but the TV's white frame is emblazoned with X-wing Starfighters, while there's also a Star Wars logo on the bottom. And if that wasn't enough, you see the Star Wars logo every time you turn it on, and when you turn it off, it shows a montage of familiar Star Wars sights and sounds, including a Stormtrooper and the lightsaber noise. Crazy but true. There is no pricing info as yet.