This Man Got a PhD in Threesomes?
As heard in Thursdays "Top 5 things" segment on Justice and Drew.
This Man Got a PhD in Threesomes
After a memorable threesome with two women, Birmingham City University researcher Ryan Scoats turned his academic attention to the subject, which is woefully understudied.


OCT 16 2017, 9:47AM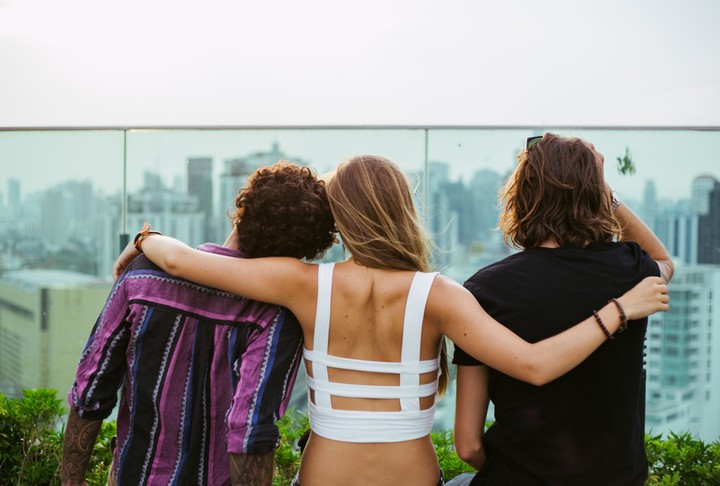 Photo by Jovo Jovanovic via Stocksy
Social scientists have a way of digging into just about every corner of social and sexual life. And Ryan Scoats, a researcher at Birmingham City University, has a very specific niche.
Years ago, Scoats and his then-girlfriend developed a friends-with-benefits-type relationship with another woman. Curious, Scoats went looking for academic studies about him and his ex-partner's new relationship coupling. He didn't find much, and what research did exist about threesomes often lumped them in with polyamory and swinging. But this didn't reflect his own experiences—he wasn't in an open relationship and didn't consider himself a swinger.
Wanting to know more about threesomes in their own right, he decided to conduct research on the subject himself. This led to a PhD about threesomes among two men and one woman (MMF), and a book on the same subject, to be published in 2018.
Why are threesomes worth studying? For one thing, they offer a window on attitudes toward gender roles and sexuality. "For women, for the longest time, there's been almost an inherent expectation of their inherent bisexuality or gender fluidity," Scoats notes. In some ways, in Western countries, women have more space to experiment with sexual orientation.
Watch: Artist Marilyn Minter on Depicting Female Sexuality
Still, fewer women than men have had threesomes. According to one Canadian study published earlier this year, eight percent of women and 24 percent of men reported having had a mixed-gender threesome. This research also shows that participants were also kind of lazy about arranging threesomes—unless they were men. "It is likely," authors Ashley E. Thompson and E. Sandra Byers note, "that any increase in [mixed-gender threesome] experience among heterosexuals will be driven by men rather than by women."
This is also suggested by the usage stats for the dating app 3Somer. According to co-founder John Martinuk, who describes 3Somer as "the largest threesome dating app," the site has about 450,000 users. At 47 percent, men make up the largest group of 3Somer users. Female–male couples are 42 percent, while women are a paltry nine percent.